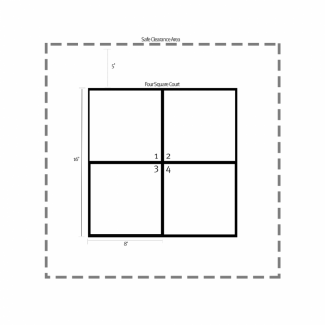 A lot of people from a lot of different industries are looking to us to answer questions about the standards of this playground game. Somehow we have become the official source for rules clarifications, managing behavior, and even consulting about world records. This week we're addressing a couple of questions about the size of a four square court. I will answer your questions in the order they were received...
Dear Sean, I am the technical writer for the American Sports Builders Association and we are updating our book, Indoor Sports Facilities: A Construction and Maintenance Manual. Our members are increasingly telling us they are being asked to add FourSquare lines to gymnasiums and playgrounds. I am wondering if we can get... an official diagram for the game so that our members can make sure they are lining facilities correctly? Thanks, Mary S. 2/23/2014
Mary, it's flattering that you are looking to us to provide standardization. I would love nothing more than to have official guidelines for this game published somewhere that facilitates the construction of more four square courts.
Here is our official diagram straight from our rules page. The court is a total of 16 feet wide and each square is 8 feet wide, all the lines are one inch. If we want to get technical, the total width includes the width of the lines themselves.
Our group plays with teens and adults and we use a court size that is appropriate for their skill level. We have also played with young children and found that sometimes our court is too big for them.
I have suggested in the past that a clever playground designer could make one court that has a large and small set of lines. Perhaps the 16' court is painted in blue and the 10' court is painted in red and they both have the same center point. Then players (or teachers) could decide on their own what size court was best.
When you put together your listing for your publication, Mary, please send us the details so we can circulate it!
Dear Sean, What would be a standard width of the boundary lines for playing square four. I know the length. Just want to know if there is a required width of the tape being used. Thank you. Thanks, Mark A 1/15/2014
Hi Mark. We decided a long time ago that wide lines take away valuable playground space. For that reason, we chose 1 inch as our standard for line width. That means in a pinch we can put up a make shift court with 1 inch wide masking tape. You can often buy permanent court lining designed for asphalt that comes in 1 inch widths.
Dear Sean, I am a promoter from LA who has just moved to Louisville, KY (yes, don't ask why...business) but we are looking to put together a road tour called the unextreme games next year. We've been meeting with various cities and colleges and they like our ideas. The games are basically all the sports we were told to stop playing in 6th grade. A primary one will be dodgeball. Per this, how close can a court be to the next and how do you handle things when everyone starts playing and balls are flying everywhere? Thanks, Robert P. 11/18/2013
Now, this is a game for kids that is also played by adults. For this reason, you have to judge your target age group's ability to get themselves hurt. My rule of thumb is ten feet between the outside edges of two courts. That's a 5 foot border around each one, enough for one person to leap outside of the border and fall onto their face without being trampled. Some kids might want more room, depending on how "aggressive" they are playing.
There, let's hope this post is useful for all you guys making courts out there. Also, please take a moment to stick your new courts on our court map!