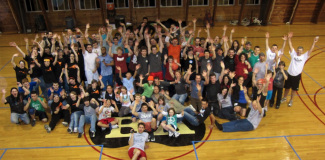 The great people at the Lakes Environmental Association in snowy Bridgton, ME, will host the annual Four Square World Championships, on Saturday, Feb 26, 2022, at 5:00PM at Bridgton Academy's gymnasium* (directions | map).
Since 2005, Lakes Environmental Association hosts this annual fundraiser event. You can join the roster and take a shot at the world championship title for a $10 registration fee that directly supports LEA's local environmental work. There is no advance registration but please email an RSVP to LEA with an indication of where you are coming from and how many players and spectators you intend to bring. Entrance to the Champs is open to the public so expect people of all shapes, sizes and stature in attendance. Competitors will battle for the greatest four square title in the world. Entrants will be divided into three divisions based on age. The Official Rules of Four Square are the standard rules for this tournament and there will be no custom rules allowed. It would be a good idea to book your lodging early and plan to take advantage of the skiing, snowshowing, sledding, and more that Bridgton has to offer.
The day will look like this:
5:00 PM: Open registration and beginner rule workshop
5:30 PM: Men's and Women's General entry (top 50% advance)
6:45 PM: Men's and Women's Semifinals (top 25% advance)
7:45 PM: Women's Finals (winner takes all)
8:30 PM: Men's Finals (winner takes all)
9:00 PM: New champions announced
9:30 PM: Relocate to local establishment for refreshments.
There is a Sunday schedule for any competitors still in town:
9:00-10:30AM: Breakfast of champions at Ricky's Diner
10:30 AM:TBD post-champs outdoor activity (weather permitting)
*Bridgton Academy will require that all competitors wear non-scuffing shoes.