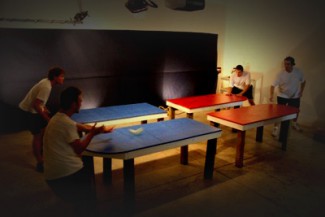 Dear Sean,
A Big Thank You goes out to you, Sean. I know you have no idea who I am, or where I'm coming from, but I really appreciate everything you have given me, even though you don't know what that is. My friends and I have also been plagued by a deficit of alt sports, living out in the boonies of Kentucky, haha. We created a sport, which has been developing over the past few years "Hantis" and finally realized it could be something special. I've been searching through Google to find other sports websites that shared the humility and care for sports on our level. By browsing your website religiously, you gave me the idea to start our own Local League and website. Please don't get me wrong, I in no way plagiarized or copied your ideas and designs, but your leadership and care for the league gave me hope that I could do the same. Our sport, Hantis, is related to Four Square, but uses tables and a tennis ball instead. The rules are much different, but the concept is the same. Even though we may never meet, I just wanted to let you know that your influence has spread further than Mass and I appreciate the work you've done. Thank You. - Ben F. 10/28/2008
Ben, what can I say, your site is balls out. First, your new sport is crazy and crackdope and if you ever make a trip to Boston I will do my best to crush you at it. Looks like that would be tough work, based on this video it seems you are starting a scene as big as slamball. I should hope that we could trade some rounds of squares for rounds of tables. I'm glad that in some small way our four square league site inspires other folks to get their own things off the ground. Keep up the good work.
PS. My first google turned up results that made me think you lived in Turkey.