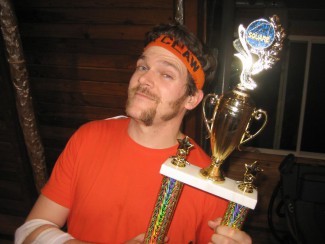 Christian Housh of Cambridge, MA, was crowned the new Mens Four Square World Champion. He beat sixty other men entered at the Four Square World Championships on Feb 27, 2010, in Bridgton, ME.
Christian was a returning finalist and faced of in the final round against familiar faces from past championship tournaments. Also in the round with him was Chris Glasser, the 2009 champion, who was gunning to keep his title. After 25 minutes of normal play, plus four overtime extensions, the four top ranking men were separated by a difference of only three points.
You may know Christian as our local character, Tiger Claw, playing in our league for four years. He lives here in Cambridge, MA, with his wife and daughter and works for an educational organization known as Explo.