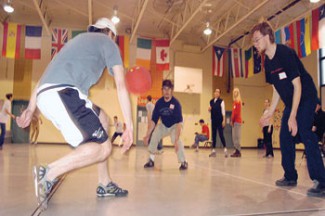 Mary Letourneau, leader of our Burlington Chapter of Squarefour, opened up the season on Sunday, December 4, in Burlington, VT, amid a circus-like media frenzy including a local paper called Seven Days, Vermont Public Radio, and a network TV station who featured some of the players on the 11 o'clock news. Below you can read the article as it appeared in Seven Days and hear the podcast of the VPR program. The photo here is credited to Matthew Thorsen.
Vermont Edition Podcast:
http://www.vpr.net/xml/podcasts/vt_edition/2005/vted_120705.mp3
The last four minutes of the program cover the games.
Burlington Seven Days, Scene@Four Square Game:
Champlain Elementary School, Sunday, December 4, 2-4 P.M. It was the inaugural game of Vermont's first-ever adult Four Square league, and in my jeans, work boots and a wool cap, I was decidedly overdressed. The other kids, er, players -- a couple dozen twentysomethings -- were already warming up when I arrived. I never played Four Square as a kid -- I was into kickball and dodge ball, two other erstwhile childhood games that have since been resurrected by grown-ups looking to relive old victories or reverse past humiliations. League organizer Mary Letourneau, 27, admits she never played Four Square as a child, either, but picked it up while living in Boston, where a competitive adult league has been going strong since 2003.
A boom box blared "My Sharona," "We Got the Beat" and other pop tunes from the 1970s and '80s as the players polished their Four Square skills. The game is simple. It's played with a rubber playground ball on a 16-by-16-foot court divided into four smaller squares. With one player occupying each square, the object is to bounce the ball into a competitors' square without him or her returning it. The goal is to knock your competitors out and advance from square one to square four, where points are earned each time you serve. Whenever a player misses a shot, a new one rotates in from the sidelines.
Though this is a co-ed "competitive" league, the level of competitiveness varied from player to player, and size and gender weren't factors. One smallish, athletic woman named Wendy -- everyone wears nametags to simplify scorekeeping -- served five times before being knocked out. Wendy dominated the court for a while because as server, she could change the rules on each serve, calling "underhand only," "body language" (hitting the ball with any body part) or "double tap," which allows a player to set the ball first (as in volleyball) before hitting it. When she was finally bumped off, I asked what her secret was.
"I played in junior high," she admitted.
Originally published by Ken Picard, Seven Days, 12/7/2005