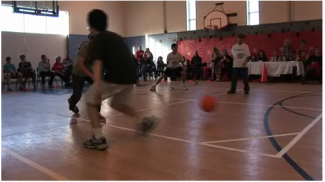 The Maine Youth Four Square Tournament took place in the Portland, ME, area just last week. Hailed as New England's first youth four square tournament, and sponsored by 97.9 Radio, Jet Video, and the Portland Pirates, this program is reported to be an awesome success. Don't miss the excellent video of the day unfolding.
This is especially interesting because one of our annual junior competitors, Matt Fishbein, took second place in the tournament. If you remember, Matt was preparing a regulation four square court in his house. We heard they raise 'em tough in Maine, but this guy is hard core and the reigning world champ had better watch out.
From the press release:
Breakwater School announces winners of the Maine Youth Four Square Tournament

Portland, ME, November 15, 2010 — More than fifty kids representing towns from Kennebunk to Lewiston gathered on Sunday to participate in the Maine Youth Four Square Tournament, organized and hosted by Breakwater School. The event's top-placing athletes hailed from three different Portland area schools. Hal Ford, a seventh-grader from Breakwater, won the first place trophy. Another seventh-grader, Matthew Fishbein from Cape Elizabeth Middle School, took second place, while the bronze went to Caden Horton, a fourth-grader from Brown School in South Portland.

"The winners did a fantastic job, but what was most impressive of all was the overall good sportsmanship that all the participants displayed during the four-hour long tournament," said David Sullivan, Breakwater's Head of School. "The day was all about being with friends, meeting new people, doing your best, and having fun."

"Four Square is really a simple game, yet it holds such a fond place in the hearts and memories of so many people," said Courtney Cook, Director of Breakwater's After-school and Enrichment Programs and primary organizer of the event. "And when played fairly, it engenders the perfect mix of personal challenge and good old fashioned fun."

Four square requires only a rubber ball and a bit of chalk or tape to mark off four 8 X 8-foot squares, occupied by four opponents. The classic playground pastime is gaining popularity as a sport among adults, with tournaments cropping up from coast to coast. For five years running, Bridgton Maine has hosted the Four Square World Championships for men and women. This year, Breakwater expanded the Maine tradition to include the sport's younger enthusiasts. The event was the first four square tournament for youth in New England.

Open to all Maine children in grades three through eight, the tournament was sponsored by 97.9 Radio, Jet Video, and the Portland Pirates. To see photos from the event, check out our website or visit us on Facebook.

For more information, please contact Dona Pfeffer, Marketing Director, at 207-831-0147 or by email: festivals@mindspring.com.

About Breakwater School

Located in Portland, ME, Breakwater is an independent day school where students, pre-K through grade 8, are immersed in an inclusive, small school environment that bolsters their social and intellectual skills while nurturing their innate sense of curiosity and adventure. Our child-centered, integrated curriculum engages students in authentic learning experiences designed to expand core academic skills through challenging, hands-on projects that have real-world applications.