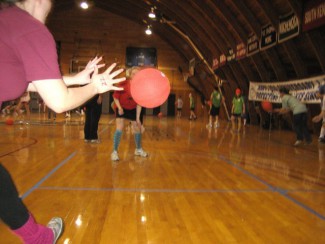 Good news! The 2011 Winter Season is fully scheduled and awaiting your registration. You can now join up for another season of indoor winter four square and receive all the great benefits we offer: 10 scheduled game sessions, sexy league shirts, online statistical analysis, and a cadre of fun loving and kind people.
If you register now you can take advantage of our Early Bird pricing and save a whole ten bucks by making an early, firm commitment to playing games this winter. Slackers who wait until after September 15 will cough up more dough for the exact same benefits. Just saying.
Announcing the season now in August is a really big deal. Some of the fine details about our schedule have changed this year and it's important to get the word out early. Read on to learn about the changes.
Our season will begin a month earlier in October. We do this to conclude our season before the Four Square World Championships on Feb 26, 2011. In past seasons, we have extended our dates very late into spring and this new schedule will keep our momentum and finish just as the spring turns on.
We are also pushing back our game times from past years. All games now run from 3PM to 5PM. We did this for a couple of reasons. First, last year's schedule stuck our games right in the middle of the day making it difficult for planning other activities, especially for those folks with families or children. Second, it's more likely that folks will visit the pub at 5PM rather than 3PM, and a couple of local happy hours begin at that time anyway. So this change is better for children and barflies at the same time.
All other details are the same. We still meet at the Cambridge Family YMCA in Central Square, we still have dozens of regular members returning each year, we still have a whole lot of fun together, and we still stomp faces on the court. See you there.